Back
Book Talk: Henry Gao's Between Market Economy and State Capitalism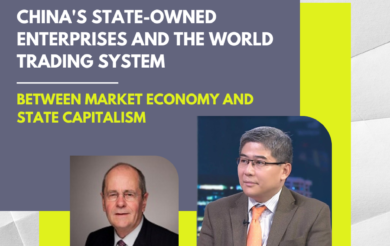 Organized by:

Geneva Trade Platform & Multilateral Dialogue of the Konrad Adenauer Stiftung

Place:

Hybrid meeting

Date:

11 May 2023

Start time:

15:00
BOOK TALK
Henry Gao's Between Market Economy and State Capitalism:
China's State-Owned Enterprises and the World Trading System
Hybrid Event

Many commentators believe that the existing WTO rules are insufficient or ill-suited to maintaining fairness in an international trading system which includes the state capitalism of China, and thus that new rules are needed.
In his new book Between Market Economy and State Capitalism: China's State-Owned Enterprises and the World Trading System, Professor Henry Gao challenges conventional wisdom. Through meticulous studies and fresh analysis of the commitments in China's WTO accession package, existing rules on state capitalism in WTO agreements, and recent attempts to make new rules on these issues at bilateral, regional and multilateral levels, he argues that existing WTO rules, especially those on subsidies, coupled with China-specific rules in its accession protocol, do provide feasible tools to counter China's state capitalism.
Join us and discussant Stuart Harbinson, either in-person at the offices of the Multilateral Dialogue of the Konrad Adenauer Stiftung in Geneva, or online, as Professor Gao presents his book and discusses the intersection between trade law and market intervention.
AGENDA
15:00 – 15:05 CET | Opening remarks by Prof. Joost Pauwelyn
15:05 – 15:45 CET |  Presentation by Prof Henry Gao
15:45 – 16:00 CET | Presentation by Stuart Harbinson
16:00 – 16:30 CET | Audience Q&A
To register for the event in either format, please use the register button above and if relevant indicate your interest in attending in-person via the registration form. Those who aren't able to join us in person will still be able to watch the event and participate in the Q&A via Zoom.