Back
EU Priorities for the Future of WTO ahead of MC12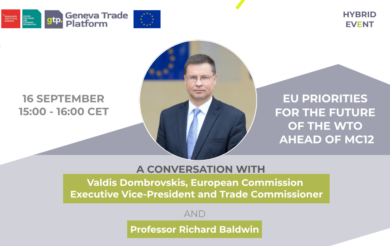 Organized by:

Geneva Trade Platform, CTEI and European Union Delegation

Place:

Hybrid Event

Date:

16 Sep 2021

Start time:

15:00
With under ninety days remaining until the WTO's 12th Ministerial Conference (MC12), join Valdis Dombrovskis, the European Commission Executive Vice President and Trade Commissioner for a discussion of EU priorities for the future of the WTO.
EVP Dombrovskis will share his vision, and join the Graduate Institute's own Professor Richard Baldwin to discuss it further, as well as taking your questions.
The Graduate Institute's Geneva Trade Platform and the Permanent Mission of the European Union to the World Trade Organization (WTO) are proud to host this event live in hybrid format, with registration below. This event will take place in compliance with all Covid-19 regulations, which means we will only be able to accommodate a limited number of students, trade practitioners, members of the press and delegates to the WTO in person at the venue.
If you are interested in attending the event physically please indicate your interest via the appropriate fields in the form below. We will endeavour to get back to you within 48 hours. Those who aren't able to join us in person will still be able to watch the event and participate in the Q&A via Zoom.
The remarks, discussion and Q&A will also be broadcast live and recorded on Youtube.