Back
Geneva Book Launch – Trade Links, by James Bacchus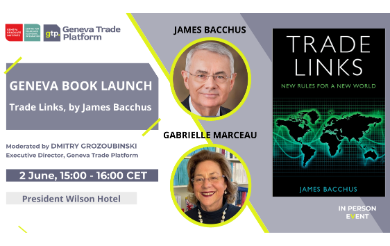 Organized by:

Geneva Trade Platform

Place:

President Wilson Hotel

Date:

02 Jun 2022

Start time:

15:00
With the WTO 12th Ministerial Conference just days away, this event introduces to Geneva "Trade Links: New Rules for a New World", a book by James Bacchus, a founding member and twice chairman of the World Trade Organization's Appellate Body and currently Distinguished University Professor of Global Affairs at the University of Central Florida. 
Joined by discussant Prof. Gabrielle Marceau of the WTO Secretariat, James Bacchus will share insights from his new work and elaborate on some of its proposals on bringing the WTO into the twenty-first century, including exploring the ways it can be utilised to combat future pandemics and climate change and advance sustainable development, all while continuing to foster free trade. 
With voters the world over demanding more from their governments in areas as diverse as geopolitics, economic development and environmental sustainability, and leaders increasingly turning to trade policy for the answers, there has never been a more important time to consider the potential, utility and feasibility of new rules for a new world. 

Panel Speakers:
James Bacchus, Distinguished University Professor of Global Affairs at the University of Central Florida
Prof. Gabrielle Marceau, Senior Counsellor Legal Affairs Division, WTO
Moderator: 
Dmitry Grozoubinski, Executive Director, Geneva Trade Platform
This event will take place at the President Wilson Hotel Geneva at 15:00 – 16:00 CET