Back
Greening Agricultural Subsidies: Understanding the WTO Debate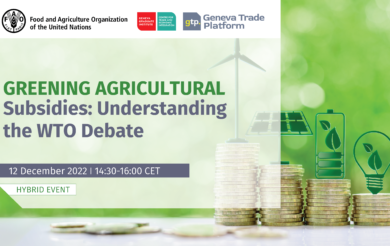 Place:

Online and in-person

Date:

12 Dec 2022

Start time:

14:30
Theme:
Agriculture, SUSTAINABILITY, Trade and...
Part 4 of our ongoing event series with the FAO exploring the the role of the multilateral trading system in sustainable agricultural transition, is all about greening agricultural subsidies and understanding the WTO debate.
The World Trade Organization oversees the rules-based framework for international trade, which also governs how governments implement domestic agricultural subsidies. There is a growing debate regarding how such subsidies can contribute to sustainability.  This event aims to open a window into this debate and how rules on subsidies can address sustainability issues within a WTO context. 
Our speakers for the session will be:
Alice Tipping, Lead, Sustainable Trade, IISD
Doaa Abdel Motaal, Senior Counsellor, Agriculture and Commodities Division, WTO
Marco Sanchez Cantillo, Deputy Director, Agrifood Economics Division (ESA), FAO