Back
Improving LDC Agricultural Export Performance & Sustainability – What can be done?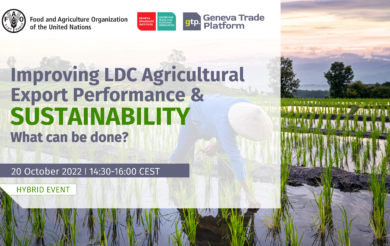 Date:

20 Oct 2022

Start time:

14:30
Theme:
SUSTAINABILITY, The World Trade Organization (WTO)
This event asks what the multilateral trading system and aid for trade can do to support Least Developed Countries (LDCs) in sustainably reaching their potential as producers and exporters of agriculture and fisheries. 
It marks the second entry in a joint FAO-GTP series on options, fresh ideas and potential paths forward for the multilateral system in supporting sustainable agriculture and fisheries. 
High level expert panellists will share their views on where some of the challenges for LDCs in improving the sustainability and export competitiveness lie, how they can be addressed, and how aid for trade and the multilateral trading system more generally might be of assistance.
Key leading questions:
What are the challenges or capacity gaps LDCs face in sustainably achieving their potential in agriculture and fisheries? 

Which existing Aid for Trade approaches have shown promise in addressing these challenges or gaps? 

What more can and must be done in order to achieve SDG 17.11?