Back
Major International Trade Reports Symposia 2023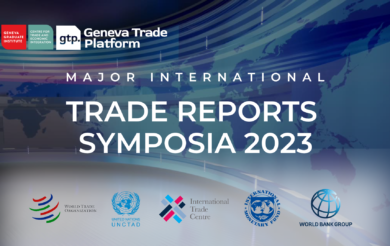 Organized by:

Geneva Trade Platform

Place:

Geneva Graduate Institute

Date:

29 Mar 2023
We are delighted to invite you to save the dates for an upcoming five-session public symposia on major international trade reports, featuring authors and high level representatives of major international organizations presenting their flagship reports.
Geneva is home to the headquarters and representations of some of the world's foremost analytical and research organizations, the trade related flagship reports of which represent the combined efforts of dozens of leading scholars.
Through this five-session symposium, representatives from the World Trade Organization, World Bank, International Trade Centre, International Monetary Fund and UNCTAD will present and explain one of their key reports from the last year at an open session at the Graduate Institute.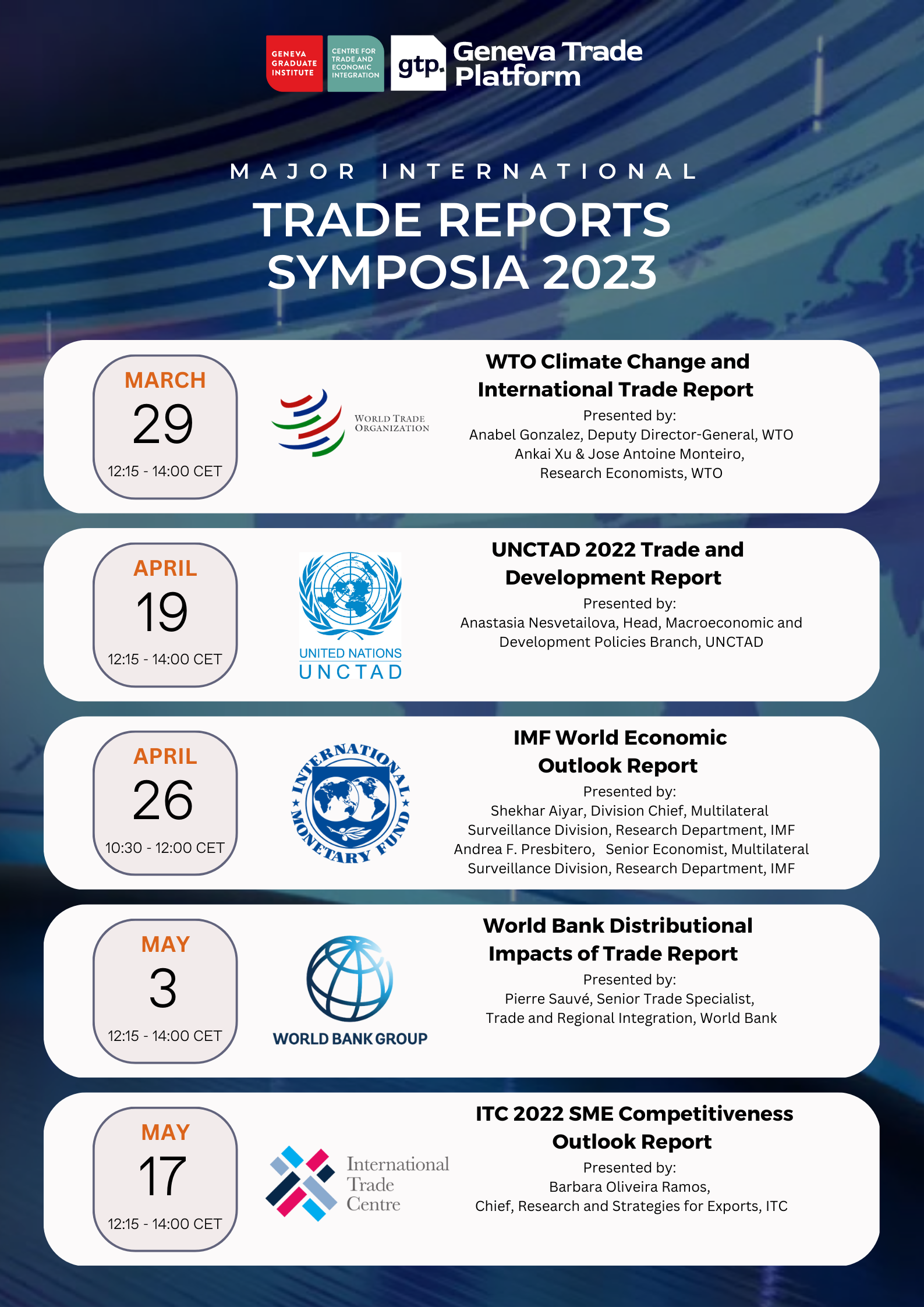 Places are limited, do register your interest today!
Major International Trade Reports Symposia 2023
March 29, 2023 - 12:15 - 14:00 CET
WTO Climate Change and International Trade Report
World Trade Organization
Presented by: Anabel Gonzalez, Deputy Director-General, WTO Ankai Xu & Jose Antoine Monteiro, Research Economists, WTO
April 19, 2023 - 12:15 - 14:00 CET
UNCTAD 2022 Trade and Development Report
United Nations Conference on Trade and Development (UNCTAD)
Presented by: Anastasia Nesvetailova, Head, Macroeconomic and Development Policies Branch, UNCTAD
April 26, 2023 - 10:30 - 12:00 CET
IMF World Economic Outlook Report
International Monetary Fund (IMF)
Presented by: Shekhar Aiyar, Division Chief, Multilateral Surveillance Division, Research Department, IMF Andrea F. Presbitero, Senior Economist, Multilateral Surveillance Division, Research Department, IMF
May 3, 2023 - 12:15 - 14:00 CET
World Bank Distributional Impacts of Trade Report
World Bank Group
Pierre Sauvé, Senior Trade Specialist, Trade and Regional Integration, World Bank
May 17, 2023 - 12:15- 14:00 CET
ITC 2022 SME Competitiveness Outlook Report
International Trade Centre
Presented by: Barbara Oliveira Ramos, Chief, Research and Strategies for Exports, ITC