Back
Promoting Circularity in Transition Economies: The Role of Trade and Economic Cooperation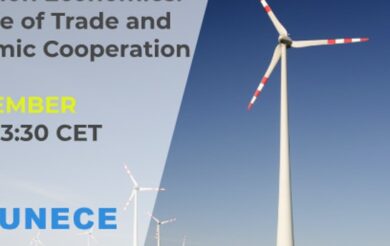 Organized by:

The Geneva Trade Platform and the UNECE

Place:

Virtual Meeting (Zoom)

Date:

08 Dec 2020

Start time:

12:00
Organized by UNECE in partnership with the Geneva Trade Platform | A Side Event of the World Circular Economy Forum
How are transition economies working to foster a circular economy model, producing more efficiently, polluting less and reusing more? What best practices can they share? What challenges remain?
Hear perspectives and insight from high-level speakers from North Macedonia, Georgia, Kazakhstan, Serbia, the UNECE and the Institute for European Environmental Policy.
Scheduled speakers will include:
Ms. Olga Algayerova, UN Under-Secretary-General, Executive Secretary, UNECE
H.E. Mr. Kreshnik Bekteshi, Minister of Economy, North Macedonia
H.E. Ms. Nino Tandilashvili, Deputy Minister of Environment Protection and Agriculture, Georgia
Mr. Olzhas Sartaev, CEO of Special Economic Zone "Park of Innovative Technologies" in Almaty, Kazakhstan
Ms. Aleksandra Vucinic, Head of Group for Circular and Green Economy, Ministry of Environmental Protection, Serbia
Ms. Marianne Kettunen, Head of Programme, Institute for European Environmental Policy (IEEP)
The Geneva Trade Platform thanks Sergey Popov for financial contribution to this project.