Back
REGISTER NOW! In-Person Conference "Promoting Sustainable Investment and Green Trade: the Swiss Perspective"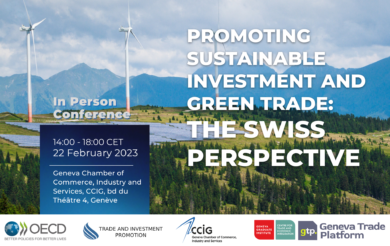 Place:

Geneva Chamber of Commerce, Industry and Services

Date:

22 Feb 2023

Start time:

14:00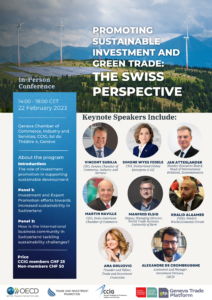 Promoting Sustainable Investment and Green Trade: the Swiss Perspective
VENUE:  Geneva Chamber of Commerce, Industry and Services
Registration is NOW OPEN!
From February, a new series of Promoting Sustainable Investment and Green Trade Conferences will present innovative solutions for attracting sustainable foreign direct investment and promoting green trade on a country-level. The first Conference will focus on the world's most innovative economy: Switzerland.
When it comes to attracting responsible foreign investors and achieving sustainable practices:
What are the main Swiss investment policy instruments?
What is the role of investment promotion agencies and chambers of commerce?
How can Swiss MSME's help?
How does industry-academic collaboration in Switzerland contribute?

Our Speakers will also include:
Simone Wyss Fedele, CEO, Switzerland Global Enterprise S-GE
Jan Atteslander, Member Executive Board, Head of International Relations, economiesuisse
Vincent Subilia, Director General, Geneva Chamber of Commerce, Industry and Services
Alexandre de Crombrugghe Manager, OECD Investment Promotion Agency Network
Investment Division, Directorate for Financial and Enterprise Affairs
Martin Naville, CEO, Swiss-American Chamber of Commerce
Manfred Elsig, Deputy Director, World Trade Institute, University of Bern
Khalid Alaamer, Policy Analyst World Economic Forum