Back
Trade Policy Careers | For Students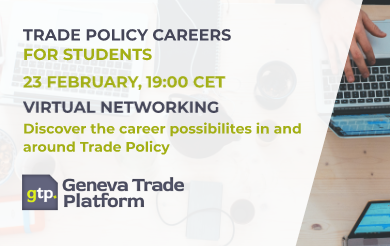 Organized by:

The Geneva Trade Platform

Place:

Virtual Networking

Date:

23 Feb 2021

Start time:

19:00
Theme:
Trade Policy Careers

Mid-degree and considering a career in trade policy?
Join us to hear from successful young professionals from across intergovernmental organizations, development organizations and trade law, and to meet and network with trade curious students from all over the world.
This event will take place on Tuesday 23 February at 19:00-20:00 CET.
Students are invited to join the Geneva Trade Platform for an evening of networking and insights from leading young trade professionals from across trade law, intergovernmental cooperation and international development.
Trade policy never seems to be out of the news these days, but what does a career working in it actually entail? What's an average day like? How does one get started? What are the kind of skills prospective employers look for?
This pilot session, organized via the Beyond Trade Network, will seek to answer these questions by hearing direct from professionals at the top of their game:
• Kimberley Botwright, World Economic Forum
• Susanna Pak, International Trade Centre (UN/WTO)
• Colette van der Ven, TULIP Consulting and Sidley Austin LLP
• Aditi Sara Verghese, World Economic Forum